ECMHoF 2019 Lifetime Achievement Award Inductees
VIDEO BIO'S CLICK BELOW
---
---
2019 ECMHoF Awards Gala Video Hosted by Rosie & Bill Show
---
---
Promo Video
---
---
IN PICTURES
Willie Winfield (The Harptones) LEGEND LEAD SINGER MALE
Presenters Charlie & Pam Horner; classicurbanharmony.net
---
Tony Testa ( Duprees) LEGEND VOCALIST / ENTERTAINER
presenters Tom Petillo, Jimmy Spinelli, Phil Granito. duprees.com
---
LEGEND VOCAL GROUP R&B / SOUL / Russell Thompkins Jr (The Stylistics)
Presenter Ali Hackett
---
LEGEND VOCAL GROUP / DOO WOP /

The Brooklyn Bridge
---
Legend Vocal Group / Ladies Doo Wop / The Chantels
---
Legend Vocal Group- Acapella / The Persuasions
---
Legend Latin Music- Tito Puente
Accepting the Award Tito Puente Jr
---
Legend Musician / Johnny Gale
---
Legend Songwriter / Composer Billy Dawn Smith
Accepting the Award Alex Augustine & Jackie Nunez
---
Legend DJ / Radio Personality
Don K. Reed
---
LEGEND BAND/ CLASSIC ROCK- No Presentation
---
---
---
---

BIOS & PICTURES
KID KYLE is a 23 year old Doo Wop Sensation who is currently captivating audiences with his unique voice and showmanship. Born January 08,1995,Kyle Flandrau was singing to his family by the time he was two years old and by the age of eight,Kyle experienced his first taste of national exposure when he appeared n American Idol Junior in Los Angeles,California. By November 2005,Kyle began to receive media exposure.An article in The Bergen Record led to appearances on NBC'S "Today In New York," Fox's "Good Day,New York," and a national appearance on "The Tony Danza Show."He has filmed "My Music,Doo Wop Love Songs" for PBS,for which he received national acclaim.
KID KYLE has performed in front of audiences, as large as 20,000 people, in The U.S. and Europe including prestigious venus such as The Trump Taj Mahal,The House of Blues,The Sands Casino and others In Atlantic City,NJ,The Kimmel Center in Philadelphia,PA,The Grand Opera House in Wilmington,DE,The Mohegan Sun Arena in CT,The Benedum Center in Pittsburgh,PA,The California Center For The Arts in Escondido, CA,Town Hall in NYC,The Izod Center and Count Basie Theater in NJ,Walt Disney World in FL and Hershey Park in PA and in 2015,KID KYLE made his first appearance in Europe at The Hemsby Music festival in The UK and returned to perform in The UK in 2016.
KID KYLE has extensive experience working with top musicians ranging from a five piece band to a full orchestra and his stage performance has been described as "dynamic and high energy." His recording experience began at age ten and he has recorded at studios in NYC,FL and Nashville,TN.The KID KYLE CD "Without Love" recorded in 2014,features Kyle with legendary backup talent including members of The Jordanaires,The Duprees,The Del Satins,The Dubs,The Ladies of Sigma Sound and others…the latest KID KYLE CD 'Can't Help Falling In Love",his fifth album, was released in late,2017 and received numerous outstanding reviews from the music industry and the buying public.
It is always a great show by this exciting young performer and one that keeps his audiences returning time and time again!
---
---
Joey Arminio is Mr. Personality; he enters the audience with both barrels, always cheerful, always charismatic and always professional. His commanding lead vocals and a sax style all his own provide a top quality performance every time. Bazooka has performed over 6000 shows since 1980 to present and has contributed to so many charitable organizations through his music. Joey also plays Trumpet, Violin, Keyboards, Guitar and sings lead and back up harmonies.
The Wanderers (Jersey Shore Oldies band) Band Leader 1980-1992/ The Crosstones honorary member since 1980/ The Cruisers (Eddie Testa Band) fill in sax player 1984 to present
The Regents (Barbara Ann 1961) back up sax player from 1989-2002/ The Wildwood Streethearts 1990-1992 / AJ & The Hearts 1992-1998 / Jobonanno and The Godsons of Soul 2014-2017 / Joey Arminio & "The Family" 1999-present / Arminio Entertainment (President) 1999-Present/ Arminio Studios (Engineer and Producer) 2006-Present Accomplishments:
Don K Reed Doo Wop Shop CBS FM (over a million listeners) Radio Show NYC appeared 4X/ Gary US Bonds San Destin Florida Y2K / PNC Arts Center, The Westbury music fair, New Orleans Theater with The Regents / 1986 and 1987 Spring Break at Art Stocks Playpen South (six week tours) / PBS Television: Doo Wop Love Songs (Jerry Butler) backed up Carrol Conners (Teddy Bears) / Jam 86 , Feed The World concerts Asbury Park's Stone Pony, Members of Southside Johnny . / 3M Concert with members of Bruce Springsteen's E Street Band / Save the Carousel Concert Asbury Park NJ / Oldies Concerts at The Strand Theater in Lakewood and The Count Basie Theater in Red Bank. / Convention Hall in Asbury Park — Rock n' Roll show for UGHA Ronnie Italiano (Clifton Music) Feb. 14th, 98
Performed with on stage:
The Dell Vikings, The Regents, Jobonanno, Eddie Testa, Johnny Tillitson, Dicky Lee, Lenny Welsh, Bryan Highland, Gary US Bonds. John Eddie, Willie Nile, John Cafferty.
Bobby D'Andrea (Darling Lorraine), Johnny Maestro & the Brooklyn Bridge, Freddie Paris & the Five Satins, Frankie Ford, The Platters, The Drifters, Randy and The Rainbows, The Tokens, The Crystals, The Belmont's, Vito and the Salutations, The Del Vikings, The Platters, The Cleftones, The Coasters, Screaming J Hawkins, The Regents, the Dubs, Lenny Welch, Freddy Parris & the Five Satins, The Dovells, The Jive Five, Randy and the Rainbows, The Elegants, The Mellow Kings, The Impalas, The Shirelles, Larry Chance and the Earls, Freddy Cannon, Brian Hylan, Tommy Roe, The Quotations, Johnny Tilitson
Performed with celebrities such as:
Bowser from Sha na na, Nipsy Russel, Mtv's Smitty, Uncle Floyd, Barry Newman (TV's lawyer Petracelli) Pat Cooper, Vinnie Pastore (Big Pussy Sopranos) Gary Pastore (Goodfellas)
Joey has appeared in three motion pictures: The Warriors, Cadillac Man , and Shock to the System. Joey has written, produced, and starred in an original music video titled "Blondes Have More Fun", which aired on U68 and the Jimmy Joe Comedy Shop and MTV Basement Tapes.
---
SHADOWS OF THE 60'S pays tribute to the tremendous legacy of The Four Tops, Temptations & Supremes. In this Tribute production show, SHADOWS OF THE 60'S perform the hits that span several decades. Great care is taken to reproduce the music, note for note and in the original keys and arrangements. Now, triple the memories and excitement with our Tribute to Motown's Super Groups. Stunning choreography & costumes! Three Super Groups on one stage with a grand finale featuring the music of Motown's Smokey Robinson, Marvin Gaye, Stevie Wonder, Gladys Knight, Martha Reeves, Junior Walker, and more! Click on to our "Reviews & Video" page to read what fans, buyers, agents and theater owners are saying and then check our schedule page for locations to where we will be appearing in your area. Don't see your community listed as one of our tour dates? Then be sure to contact your local Performing Arts Center, Theater owners or event organizers to bring us to you. Be sure to Bring your friends and family and join us for a night of musical pleasure. "Shadows Of The 60's" – Truly a concert for everyone!
---
Bob Kulik's career has spanned more than 4 decades while sharing the stage with some of the most celebrated artists of our time…such as Lou Rawls, Jerry Vale, Robert Goulet, Little Anthony, B.J. Thomas, and The Dupree's! Bob has had a long and rewarding journey in the entertainment industry, performing as a member of the 60's pop vocal group The Happenings, whose hits include, "See You In September", "Go Away Little Girl", "I Got Rhythm", and "My Mammy! He toured with The Happenings for 28 years before retiring at the end of 2018. Bob has also been performing as a solo artist all over the tri-state area performing shows in restaurants, pubs, and retirement communities, as well as various private social functions! He also has a tribute show of Frank Sinatra songs with an entire 17 piece orchestra. With a voice you can't possibly forget, Bob Kulik will take your party or event to the next level!
---
The former musicians of the Tito Puente Orchestra have come together as the Mambo Legends Orchestra. The Mambo Legends Orchestra brings all of its incredible musicians together under their new name to bring their music to an international audience and to further explore the music which they have been masters of playing for over 30 years. The Mambo Legends Orchestra is led by John 'Dandy' Rodriguez, Mitch Frohman and musically directed by Jose Madera, each having spent over 25 years working with Tito Puente.
The focus of the band is driven by their dedication to keeping the sound of the 50's and 60's Palladium era music thriving and moving forward. MLO has successfully kept the sound of the Big 3 (Machito, Tito Rodriguez and Tito Puente) alive and well, while allowing for its progression by working with new musical concepts. John 'Dandy' Rodriguez spent over 30 years working with Tito Puente, also working with Tito Rodriguez and Ray Barretto. John went on to firm his successful 'Tipica 73' band in 1972, which he was with until 1979.
Following this he went back to work with Tito Puente, playing alongside him until the time of his death in May of 2000. Jose Madera spent 31 years working with Tito Puente. Mr. Madera also served as musical director of the Tito Puente Orchestra, also working with the legendary Fania records as a staff arranger from 1974 through 1983. Mr. Madera's extensive discography includes "El Rey" from Tito Puente, "Tribute A Ismael Rivera" from Celia Cruz, and "Obra Maestro" from Tito Puente. Jose has worked with Larry Harlow, Johnny Pacheco, Chico O'Farill, Celia Cruz, Tito Rodriguez, Machito, Eddie Palmiere, Diana Ross, James Brown, Dizzy Gillespie, and many more throughout the years.
Mitch Frohman spent 25 years working as the saxophone and flute soloist with the Tito Puente Orchestra. From 1988 to 1992 he was the saxophone and flute soloist with the Mongo Santamaria band. Mr. Frohman also worked extensively with Celia Cruz, La Lupe, Eddie and Charlie Palmieri, and many more amazing musicians. Tributo A Ismael Rivera from Celia Cruz, Live at Jazz Alley from Mongo Santamaria and United We Swing from the Spanish Harlem Orchestra are a few titles from his extensive discography, which includes five Grammy Award winners. Mitch was also the solo saxophonist on the opening score for the hit series Sex in the City. Mr. Frohman works on many projects including those performing with the Spanish Harlem Orchestra and leading The Bronx Horns.
The Mambo Legends Orchestra is comprised of musicians who not only have impressive careers, but overwhelming experience and talent. When musicians of their caliber are brought together the result is not only dynamic but groundbreaking. Transcending all boundaries they bring people together no matter their age, the language they speak or their background. Their music reaches out to everyone listening and brings them to a common ground where the excitement of this extremely well composed and played music is the tie that binds them. The music of the Mambo Legends Orchestra will not allow you to stand still.
It's big band sound and rhythm beckon you to the dance floor, tempting you to move and sway!
---
Tusk is the number one Tribute to Fleetwood Mac in the world, bar none. No wigs, no backing tracks, no gimmicks, just five musicians recreating the music of Fleetwood Mac to perfection with note for note renditions that no other Fleetwood Mac tribute on the touring scene today can come close to duplicating.
Tusk covers all the great hits of Fleetwood Mac, which has featured the talents of Mick Fleetwood, Christine and John McVie, Lindsey Buckingham, Stevie Nicks and others over the years. The five seasoned, well-respected musicians comprising Tusk have been making music together in various combinations and styles, in original outfits and in cover bands, for over twenty-five years. It seemed only fitting that they should come together to form the Ultimate Fleetwood Mac Tribute, and pay homage to a group that dominated the charts during the band members' formative years. Authentic-sounding and always respectful, Tusk leaves no stone unturned in replicating the sounds of one of the world's best-loved, top-selling bands.
---
With superlative vocals and musicianship, dynamic enthusiasm and a genuine love of the music they perform, The Bronx Wanderers recreate the magic of the era and build an energetic bond with their audience, guaranteeing an evening of toe-tapping, hand-clapping and dancing in the aisles all night long. Their show tells the stories and plays the music that will take you as close as you can get to having lived the actual experience. The Wanderers arrive at every show with new material all the time but never leave out the favorites that their fans and audiences have come to love. Not to be forgotten, are the popular Frankie Valli medleys that this group "nails" say the critics. "It never gets old, says lead singer Yo' Vinny. It just doesn't get better than this. We don't rest on our laurels. We never will."
There are great performances of favorite songs – and then there are those rare moments that go way beyond great… Moments that inspire goose bumps, cheers – and maybe a quiet tear or two…
These are the moments that truly grab us and leave us feeling like we have just experienced something that we will cherish for days and years to come! It's a moment that is hard to describe, but when you experience this, you will KNOW that your life has become richer for the simple privilege of having been there.
Buckle your seat belts because The Bronx Wanderers deliver a "Back to the Future" type of rocket fuel in this high-octane 50s, 60s and 70s Rock N' Roll experience!
Tap into the infectious energy of the music that skyrocketed classics like "American Graffiti", "Happy Days" and "A Bronx Tale" to immediate success. Weave that nostalgic adrenalin into a soundtrack of the greatest hits of rock n' roll replicated in a way that only a master record producer can achieve. Add in some genuine pros from the era and then unleash a youthful show-stopping charisma of the sons' modern day indie band musicians. Finish off this heart-pumping mix with the lovingly engaging does of pure Italian "famiglia" and you might come close to capturing the seemingly "magical" appeal of The Bronx Wanderers!""The Bronx Wanderers live show is a hit filled journey with a passion like nothing you've ever experienced! It's not what you think it is. It's fresh and original and full of energetic, heartfelt renditions of chart-topping songs from your childhood to what your kids and grandkids are listening to today. If the Partridge Family and the kids from Jersey Shore had babies you'd have The Bronx Wanderers and love it!!
---

Among today's great vocal pop musicians, Kenny Vance and The Planotones have voices of original and inviting dimension.
The group, Kenny Vance, Johnny Gale, Ladd Vance, Jimmy Bense, keyboardist Chip Degaard, and Tony Gallino on drums, redefine oldies with vocal authority and freshness.
As exemplified by their signature song Looking For An Echo, their material is influenced by the music of the 50's and 60's, but they consistently bring a unique and musically sophisticated point of view. In this sense they are classicists, opening the eyes of a new generation to a rich historical musical style.
With their cool and sultry musical approach, they give a gift to those who are discovering them for the first time!
---
"Doo-Wop Diner" host Lou Costello has been on-the-air in the Delaware Valley for more than 30 years. In April 2003, he was inducted into the membership of the Broadcast Pioneers of Philadelphia, an organization of 300 area broadcasters, all with at least 15 years experience in the business.
The Life and Career of Lou Costello
If you love the world of Doo Wop music, you are sure to enjoy the Doo Wop Diner with legendary broadcaster and entertainer Lou Costello. Doo Wop music is an integral part of the American musical experience, and Lou Costello has been entertaining local residents with his eclectic taste and creative selections for many years. It is only fitting that Lou Costello has brought his extensive music collection to the airwaves of WVLT. Cruisin' 92.1 has long been the home of true music lovers, and Lou has quickly become one of the most requested personalities on the station.
Lou Costello has also contributed in the Organ Donar Awareness Concert which was held on March 29, 2014 and he played a leading role at such a dedicated and an event held for a good cause. Everybody was laughing at his jokes when he took the microphone on stage. There is no doubt that he was The Master Of Ceremonies.
---
Welcome to Doo Wop Ramblings. A weekly newsletter about all things Doo Wop, Group Harmony, Acappella and Soul. The original intent was to let you know what songs were being played on the Doo Wop Revival. As time went on, I became more focused on keeping you updated on the latest news and happenings in our musical world. If you have a story, video or group link you would like published in the newsletter, just let me know at doowop.revival@yahoo.com
Published weekly in association with the Doo Wop Revival radio show!

---
Click Here – http://classicurbanharmony.net/about-us/

Classic Urban Harmony, LLC promotes the legacy of Rhythm & Blues Vocal Group Harmony (1940's through 1960's), Doo Wop Music, Soul Harmony, Spiritual and Gospel Quartet Singing and Early Rock & Roll Music through multimedia presentations, workshops, courses, historical research, interviews, magazine articles, radio guest appearances, library and museum displays, producing and emceeing concerts, booking doo wop and acappella vocal groups, consulting for documentaries and books, a free Classic Urban Harmony email newsletter and this website. Classic Urban Harmony LLC is owned and operated by music historians, Charles "Charlie" Horner, Ph.D., and Pamela Horner, MS.
Charlie Horner is recognized worldwide as an expert in early Rhythm & Blues, Doo Wop, Rock & Roll, Gospel and Soul vocal harmony. Born and raised in Philadelphia, he holds a PhD from the University of PA. Charlie's been totally immersed in music since he first began collecting records at age 11. From 1970 to 1995, he hosted a popular weekly radio program out of Philadelphia. In tracing the origins of urban harmony groups, he's interviewed hundreds of singers and reunited countless groups from the fifties. Charlie's produced and MC'd more than a dozen acappella stage shows and is largely credited for a resurgence in doo wop music in the Philadelphia area that began in the late 1970's and continues today. He's written liner notes for over 50 albums and published dozens of articles. Charlie's served on the board of directors of the United In Group Harmony Association's Hall of Fame and was president and cofounder of the Mills Brothers Society. By invitation of the Rock & Roll Hall of Fame & Museum in Cleveland, he interviewed songwriter and Orioles' manager Deborah Chessler in front of a live audience there. Charlie and his wife Pamela assisted the Morris Museum (Morristown, NJ) with their major exhibit "Jersey Rocks". They loaned the museum memorabilia, helped organize and label displays, gave 2 multimedia presentations on NJ Doo Wop Groups, researched and distributed programs listing 200+ NJ vocal groups, helped organize and promote 2 major doo wop concerts. Since 2008, Charlie has been President of Classic Urban Harmony LLC. He and Pam give multimedia presentations on the development of 1950's R&B, Doo Wop, Gospel, and Soul music. The presentations are given to libraries, historical societies, museums, active adult communities, community organizations and churches. They design and display some of their collections in libraries and museums. Charlie & Pam also arrange for booking of singing groups. . For more info, please visit www.classicurbanharmony.net.
---
Classic Sounds is an acclaimed Acapella Quintet that hails from the Bronx and Westchester Counties. Classic Sounds was formed in 2004 by it founding members Bob Seda, Alan Fennell, Gabriel Dassa, Steven Aversano and Billy Calbo. They all met as members of the Westchester Chordsmen Acapella Chorus. They were a natural fit with all of them having their origins in the Bronx and very similar musical backgrounds. Bob Seda and Billy Calbo were members of several groups in the early 1960's and performed on the club circuit as Bruno and the Volke-swagens. Gabe Dassa and Steven Aversano had strong backgrounds in musical theater. Alan Fennell was a teacher of music and a trained drummer. Gabe Dassa's father was childhood friends with Robert Car of Robert and Johnny and had his ear exposed to the talents of the Harptones, the Flamingos, and the Cadillacs who sang in his home.
Billy Calbo passed in 2005 and was replaced with Lou Valentino as Second Tenor. After being together for 6 months they produced and recorded their first CD " Street Corner Doo Wop". They were discovered by Johnny Z of the WFAS Rock and Roll Revival Show who introduced them the Doo Wop Circuit with their debut on the Golden Oldies Forever shows produced by Tony Derienzo. Their popularity and demand grew because of their polished harmonies and entertaining stage show. Classic Sounds has shared the stage with the likes of Johnny Maestro, The Drifters , The Platters, The Flamingos, The Harptones and many others. They have released 5 CDs and a well produced live DVD. Classic Sounds have performed nationally and Internationally. Audiences have enjoyed their performances from Milan, Italy to Beijing, China.
Classic Sounds has had some minor personnel changes over the years but have maintained their strong core. Steve Aversano left the group to pursue his career aspirations and was replaced by Julie Seda(Bob's Daughter) in 2007. Steven returned to the group in 2010 to replace Julie who left to pursue her doctorate in education. Julie returned in 2012 to replace Lou Valentino. The current configuration of Bob Seda, Gabe Dassa, Alan Fennell, Julie Seda and Steven Aversano has been together since 2012. The group is built upon strong friendships and the love of music.
They are 2 time winners of the Sing Strong Acapella Idol competition and 2 time winners of the Don K. Reed Acapella competition at the Izod Center. Their popularity has continued to grow with performances to standing ovations. Classic Sounds ring beautiful Harmonies and bring to stage a wonderful mix of entertainment and music.
---



Originally opened in 1926 as Reade's Carlton Theater, the Count Basie Theatre in Red Bank is one of the nation's most celebrated performing arts centers. The Basie is listed on the National Register of Historic Places in America, consistently recognized by Pollstar magazine as one of the nation's top-performing live event venues, and everyone from Tony Bennett and Bruce Springsteen, to Ringo Starr and William J. "Count" Basie himself have performed on its historic stage.
In fact, Bennett has called the Basie "my favorite place." Art Garfunkel once remarked, "This hall is to a singer what Steinway is to a pianist." And Lyle Lovett, a frequent Basie performer, has long praised the theater, making a point to tell his audiences "this is one of the nicest sounding rooms in the whole United States of America."
For 40+ years, Reade's Carlton Theater hosted everything from vaudeville to films, local theater and touring productions, concerts and more. By the mid-1960s, like so much treasured, architectural wonders of the gilded age, the Carlton fell into disrepair, forgotten against the rise of shopping malls, home television and multi-theater cineplexes.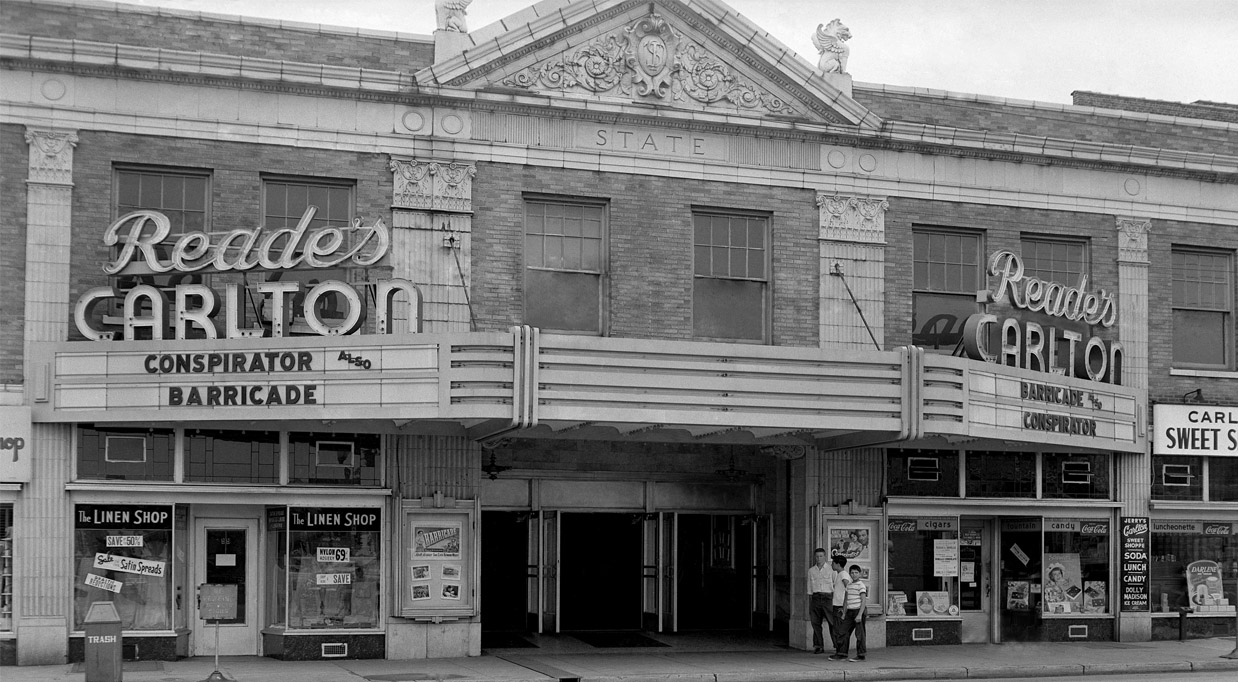 In 1971, funding from the Junior League of Monmouth County and New Jersey State Council on the Arts helped create the Monmouth County Arts Council (MCAC). With an eye on preserving the past, the MCAC almost immediately focused on preserving the Carlton.
The effort proved harder than planned. However, in 1973, an anonymous donation allowed the MCAC to purchase the Carlton for just $96,665 — several hundred thousand dollars less than it cost to construct 47 years earlier. A press release heralded, "The Monmouth County Arts Council has received an anonymous gift from a foundation enabling it to purchase the Carlton Theatre in Red Bank, with the stipulation that the theatre be renovated into an attractive and functional arts center for the entire county." Along with the donation came a new name: the Monmouth Arts Center.
Thanks to the MCAC and an ever-growing area music scene, the Monmouth Arts Center became viable. In August 1974, just months after then-Rolling Stone journalist Jon Landau proclaimed him the future of rock and roll, local musician Bruce Springsteen and his E Street Band took the historic stage. A year later, just weeks after Springsteen appeared on the covers of both Time and Newsweek magazines, the band returned for a performance dubbed "The Homecoming."
Decades before Bruce Springsteen, however, another area musician – jazz great William J. "Count" Basie – established himself as one of music's all-time greats. In 1961, just weeks after performing for President John F. Kennedy's inauguration, Basie made a homecoming performance at the Carlton, drawing more than 1700 fans in the theater's seats and glass-lined lobby. Basie made several returns in the years to follow: in 1974 for a concert held in honor of his 70th birthday, and for a 1979 performance to benefit Shrewsbury's A.M.E. Zion Church.
And today, the Count Basie Theatre has become the Count Basie Center of the Arts, reflecting its celebrated $26 million capital campaign and the goal of expanding the facility into a true, regional center for the performing arts. Construction is underway on the west side of the facility, with the Jay And Linda Grunin Arts and Education Building set to house rehearsal spaces, additional classrooms and the Basie Center's as-yet-unnamed second performance space. On the facility's east side, plans are in place to create a spacious, glass-lined lobby, barrier-free amenities and upgrades, and the Stillwell-Larkin Pavilion, which will serve as the entrance to a new outdoor public arts plaza.
At 90 years old and growing stronger, the Count Basie Center for the Arts aims to be the premier center for the performing and visual arts, inspiring, educating and entertaining through its diverse and engaging offerings and reflecting the diversity of the region. As a nonprofit organization, the Basie is committed to creating opportunities for participation and understanding the arts by collaborating with creators, organizations, and schools, and as a catalyst to harnessing the economic vitality of the arts and enriching our region's quality of life.
COUNT BASIE MASTER PLAN
And today, the Count Basie Theatre has become the Count Basie Center of the Arts, reflecting its celebrated $26 million capital campaign and the goal of expanding the facility into a true, regional center for the performing arts. Construction is underway on the west side of the facility, with the Jay And Linda Grunin Arts and Education Building set to house rehearsal spaces, additional classrooms and the Basie Center's as-yet-unnamed second performance space. On the facility's east side, plans are in place to create a spacious, glass-lined lobby, barrier-free amenities and upgrades, and the Stillwell-Larkin Pavilion, which will serve as the entrance to a new outdoor public arts plaza.
At 90 years old and growing stronger, the Count Basie Center for the Arts aims to be the premier center for the performing and visual arts, inspiring, educating and entertaining through its diverse and engaging offerings and reflecting the diversity of the region. As a nonprofit organization, the Basie is committed to creating opportunities for participation and understanding the arts by collaborating with creators, organizations, and schools, and as a catalyst to harnessing the economic vitality of the arts and enriching our region's quality of life.