http://doo-wop.blogg.org/delmonicos-1-c26503050
The Delmonicos (1) (Harlem, New York)
Personnel :
Joe Cariati (Lead)
Victor Rodriguez (First Tenor)
Nick DiBona (Second Tenor)
John Martin (Baritone)
Gary Knight (Bass)
Discography :
The Delmonicos (1)
1963 – There They Go / You Can Call (Aku 6318)
1964 – Until You / World's Biggest Fool (Musictone 6122)
Denise Germaine & The Delmonicos (1)
1963 – Teenage Idol / I'm Fed Up (Aku 6139)
Biography :
In the late fifties, five youngster from the East Harlem section Of New York, 116 th street, got together and harmonized like hundred of other music lovers from that era. this five young men were John Martin, Gary Knight, Nick DiBona, Victor Rodriguez and Joe Cariati. In the year 1959 John Martin came up with the name, The Delmonicos. The Fellas sang at local clubs and dances and waited patiently for that big break. Well, that break finally came in 1963 when the group recorded « There They Go » b/w « You Can Call » for the small Aku Label.

The Delmonicos with TJ
« You Can Call » was given excellent marks by Billboard magazine and Teen Life Magazine. It got quite a bit of airplay around New York – New Jersey – Connecticut areas, but no huge sales or money came from this. The Same Year, they backed and recorded on Aku Records with the lounge singer Denise Germaine on « Teenage idol » and « I'm Fed Up ». Denise Germaine also performed on the New York lounge circuit and recorded only a few others on the United Artists and ABC/Paramount labels.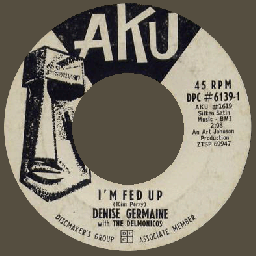 The Guys switched labels for their next record wich was called « Until You » backed with « World's Biggest Fool » on Musictone. A super record but the same results – No Big Hit!. During this time, the Delmonicos were busy playing places like the Copacabana, the Peppermint Lounge, and the Camelot among others. They also worked with Cousin Brucie (New York DJ) at Palisade Park in New Jersey. They Opened for people like Johnny Mathis, The Four seasons, The Duprees and many other artists. Then in 1964 with the British invasion, the Delmonicos retired.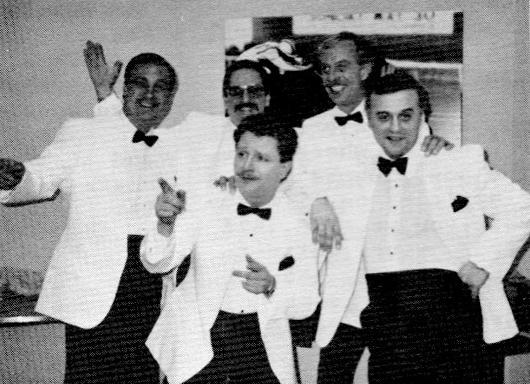 (L to R) : Manny Giz, Nick DiBona, Gary Knight, Joe Cariati. Bobby Castalano (Center)
But In 1966, Joe Cariati, Victor Rodriguez and new group members were ready to try again! They had recorded a song called « We Can Find Love » on Johnny Nash's new Joda Label. Then Fate raised it's awesome hand and the record label went bankrupt! So the group went into retirement again. A reformed Delmonicos group got back together in 1989 and cut one single and an Album. Members include Gary Knight , Nick DiBona, Joe Cariati , Bobby Castalano and Manny Giz.