"Rocket Ship Show"
Jocko Henderson
For seven years beginning in the mid-1950s, Douglas ("Jocko") Henderson commuted daily between Philadelphia, where he broadcast on WDAS, and New York City, where his two-hour late-evening Rocket Ship Show on WLIB was a particularly wild ride. "Hey, mommio, hey, daddio," he announced, "this is your spaceman Jocko . . . three, two, one: blast-off time!" At a time when many black rhythm-and-blues disc jockeys were urged by their station owners to rant and rave, Henderson delivered smooth, finger-snapping rhymes following the model of deejay Maurice ("Hot Rod") Hulbert, who had done a stint in Henderson's hometown of Baltimore, Maryland.
Henderson also staged rhythm-and-blues and rock-and-roll concerts at the Apollo Theatre and Loew's State Theater—holding his own with Alan Freed, who promoted similar shows—and he became the first African-American host of a live TV show from New York City. Henderson, who also worked at stations WADO and WOV in New York City, continued his Philadelphia show into the 1970s, and he appeared on the New York City oldies station WCBS well into the '90s.
Although the expression, "blast from the past" was apparently invented by Murray the K, years before Murray Kaufman ever saw a microphone or the inside of a broadcast studio, Douglas "Jocko" Henderson, "The Ace from Outer Space," was blasting off in his virtual rocket ship and landing it via radio in our homes. The "fastest moving show on the radio" always opened with sound of the rocket blast that our favorite space traveler said would "make your liver quiver."

Jocko was anything but an Alan Freed imitator or a "duplicator," but rather to us he was unique; he was an innovator and an originator. We viewed (or heard) him as probably the most innovative, spirited, entertaining and overall cool of all the early New York City jocks. But was he really original? Check this out (but don't forget to come back here.)

Jocko's career started in his hometown of Baltimore, but it was in Philadelphia, beginning in 1952 or 1953,

that he first took on the name, "Jocko" and began talking over (and often directly to) the records, rolling his Rs, and

rhyming everything he said in a style that would later influence countless other disc jockeys (and decades later, the rap music genre). Jocko opened doors for black DJs everywhere like no one else.

Beginning in 1954, w

e found Jocko broadcasting

toward the top of the dial at 1280 WOV

in New York City on his "Rocket Ship Show"

every weekday night after 11 p.m. (when both Alan Freed and Peter Tripp signed off the air)

in his own brand of rhyming jive patter (for which he is now

widely

acknowledged as the father of rap music).

H

e became the first DJ to do radio broadcasts commuting back and forth daily between two cities (Philly in the afternoons and New York at night).

Later,

in 1959, when Jocko went head-

to-head with then newcomer, Murray, "the K," WOV became known as "WADO Radio."
"Hey, there, all you Daddy-Os and Mommy-Os, welcome aboard the big 'Rocket Ship Show.' It's your engineer, Jocko, your Ace from Outer Space, way up here in the stratosphere, we gonna holler mighty loud and clear.
"Back on the scene with the record machine, sayin' oop-pop-a-doo and how do you do.? Close the hatch, and prepare to blast. Well, eee tiddle dee dock. This is the jock.
"Great Googamooga, Shoogabooga!"
Click to read about the origin and meaning of "Googamooga.")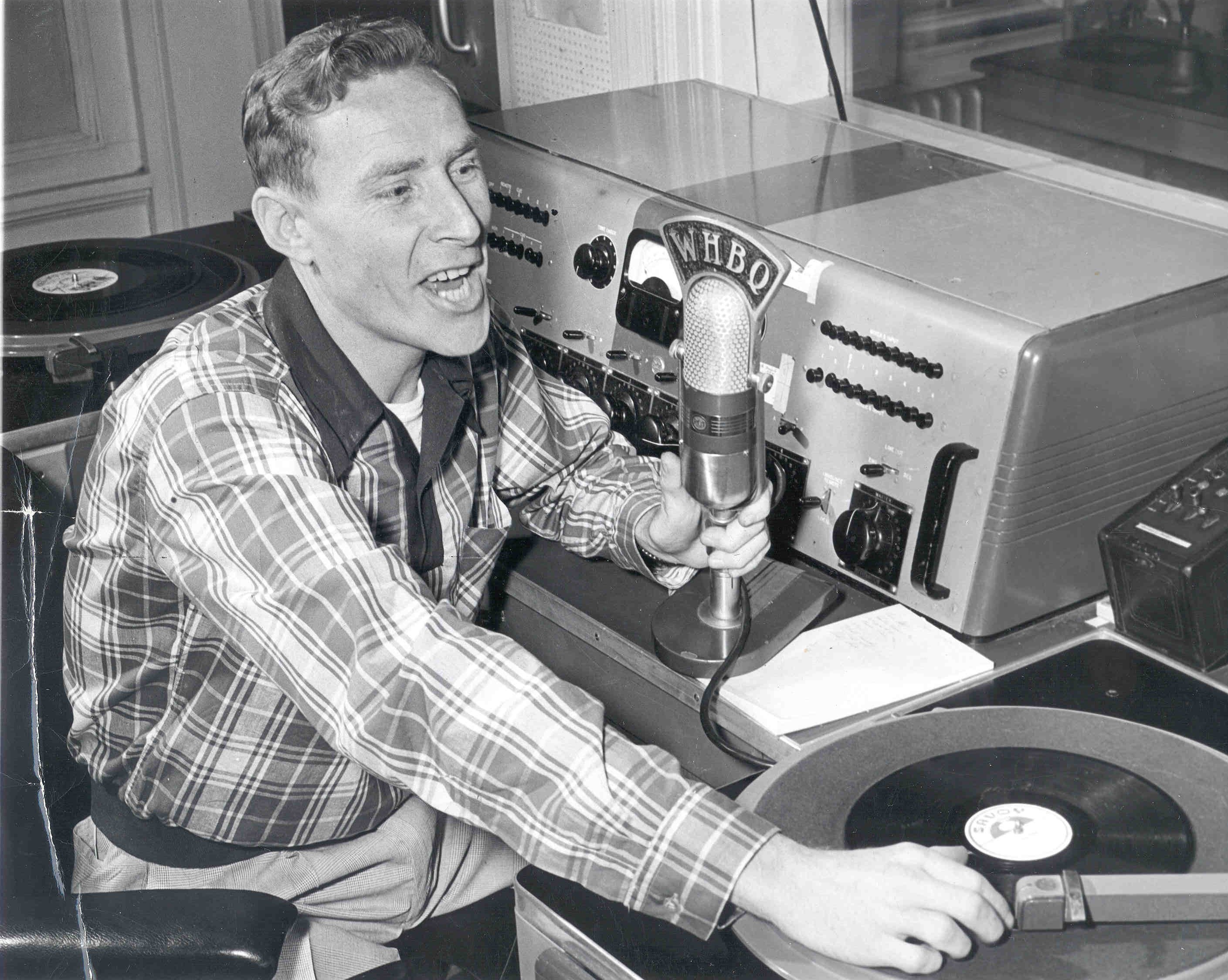 When he wasn't on the air, Jocko was out promoting the music he loved. Some called him the black Dick Clark. Like Clark and Alan Freed, Jocko also appeared on TV (his TV "Rocket Ship Show" ran for about a year beginning in 1958 on New York's channel 13) and hosted live stage shows in New York City, in his case, beginning in 1956 at Loew's historic State theatre, the first rock 'n' roll review on Broadway (Alan Freed's first Broadway stage show at the New York Paramount in Times Square was in February 1957), and later, Jocko's live show at the world famous Apollo Theater in Harlem was a virtual legend. The consummate showman, he would swing onto the stage on a rocket ship suspended by wires from the ceiling, in a puff of smoke and with that familiar rocket blast sound!

Jocko lived out his later years with little or no hoopla, just an occasional radio appearance, for example, on a short series of tribute shows on WCBS-FM (then, New York's oldies station) from 1989 to 1991, and briefly during that period for two hours a week in Philadelphia, where he had lived most of his life.

Program booklet cover from Jocko's first stage show, New York City, 1956
Despite his brief TV career and his live shows, Jocko was rarely seen by most of his radio fans, and then, usually in a space suit (therefore, barely recognizable). But he was a pretty slick and snappy guy as you can see in this ad at right for Eagle Clothes (of Brooklyn, New York) with Jocko, always an innovator and an originator, featured at the peak of the civil rights movement in 1964 in one of the earliest men's clothing ads that featured a black model.
Jocko died quietly in Philadelphia on July 15, 2000, at the age of 82. His memory was honored there in 2004 with his induction into the Broadcast Pioneers of Philadelphia's Hall of Fame, as of this writing, he has not yet been given the national recognition he so richly deserves.